Zinaida's Story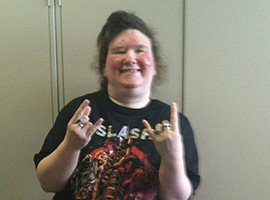 Zinaida is all about rock and roll.
When asked what she wants most in the world, she always replies – "I want to see Slash!!"
Zinaida is a big Guns and Roses fan and most of all Slash's biggest fan. This year, when it was announced that Slash was coming to Toronto, Community Living Toronto staff knew they had to make Zinaida's dream come true. Several calls were made to Live Nation and after hearing about Zinaida's dream, tickets were donated and on September 23rd – Zinaida got to go to her very first Slash concert.
Dreams and wishes granted through the Choices that can Change Lives Fund come in all sizes. Zinaida's support staff helped her get to the event and she was able to purchase a t-shirt, thanks to a small grant from the Choices that can Change Lives Fund.
This dream was made possible through the cost of a t-shirt. It was a night to remember and Zinaida's memories will last her a lifetime.