Wayne's Story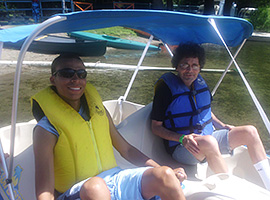 Like many individuals with an intellectual disability, Wayne has had few opportunities in life. A real high point for him has been attending Shadow Lake Camp but due to personal circumstances, he hasn't been able to attend in several years. Wayne has dreamed of going back and with the help of his support worker, they came up with a plan - Wayne would start a savings plan and apply to the Choices that can Change Lives Fund to help him with the rest of the camp fees.
By the spring of 2011, Wayne had saved $300 and his wish came true! He was granted the remaining funds needed to attend Shadow Lake Camp.
Wayne attended camp for two weeks and had the best time of his life playing games, walking through the trails, bicycling and hanging out with all of his friends. When asked what some of his favourite things were, he mentioned "singing around the campfire at night and paddle boating – lots of paddle boating." "I had lots of fun!" says Wayne "Thank you for helping me."
Wayne's story shows that with a little planning and persistence, individuals with an intellectual disability can become funding partners in making their dreams happen.