Alex's story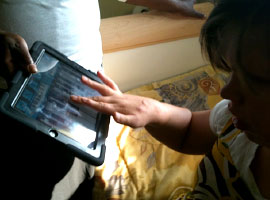 Alex lives in a Community Living Toronto home and doesn't see her family that often. This causes her a lot of stress.
She also has limited verbal capacity - she can't just pick up the phone and call them whenever she wants.
Last year, Alex's support team came up with a plan that would help alleviate her anxiety. They would seek out ways to purchase Alex an iPad.
Donations were sought and an application was made to the Choices that can Changes Lives Fund for the remaining balance. Alex is now the owner of a brand new iPad.
Now, she communicates regularly with her family using the Face Time application. Other applications have also been added which are helping Alex build on vocabulary, sign language and other communication skills.
Through the generosity of donors and the Choices that can Change Lives Fund, Alex's world is now open to new possibilities. She is much happier and is learning new ways to express herself.